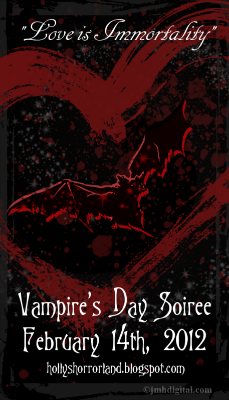 Hey guys, I decided for the Vampire Day Soiree I'd do a set of five mini reviews of vampire films, both recent and old. If these mini review interest you, or vampires general be sure to let me know and I'll do lots more. Actually, I think mini reviews would be good on this blog – I'm one of those that don't like reading through a whole three page review explaining about the tiniest plot details that I want to watch for myself.


Anyway, I hope you enjoy! Don't forget to check out the creator of this event, Holly's blog here. I've also tried not to spoil too much!
Blade: Trinity (2004)
This movie was just the right amount of fighting and plot. Usually, as seen recently in the movie Safe House, the characters are without development and this leaves the plot dead (in this case using the max amount of volume to try and get the audience to react). The movie is basically about Blade who is now wanted by the FBI as a serial killer. But there are bigger problems – namely a plot to rid the world of the vampire race and Dracula plays a big part (how good is that?).


The Hunger (1983)
This movie was, strange. I loved it and it certainly held the vampire feeling. The plot was pretty amazing and very theatrical, it held a very Gothy edge to it. Not to mention David Bowie (a main character!) is in the first scene dancing to Bela Lugosi's Dead! The trailer really didn't appeal to me much but this opening sequence just HAD to be scene. Miriam, an Egyptian vampire feeds on her lovers. In return they gain en-longed youth. This youth however doesn't last forever. We watch as she is trapped within her own murder.
Underworld: Awakening (2012)
This is a move recent film that I went and watched at the cinema at my boy friend request. To be honest, I've seen the other Underworld film but I didn't particularly like them. This, however, what GREAT. We watched it in 3D and it's the first time I've seen the 3D done well; I literally jumped and hid into Coen every time a bullet or glass came flying right for us!
The films about Selene awakening up a long time under here families existence with quite a few surprises. The world had supposedly been rid of vampires and Lycan clans have been forced under ground – or so the world thinks. This is another action packed film but it does have some very good plot and some moderately well done plot twists.
Cirque du Freak: The Vampires Assistant (2009)
Now for a change of pace with this Action/Adventure film. This is definitely not a film not to be taken too seriously; it's a bit childish and contains a fair amount of mentionable humour. The film all starts when Darren and his best friend go to a travelling Freak Show and meet a man that turns out to be a vampire. The plot is very teen-movie-esque (but don't we all love a little bit of cheese?) but it doesn't take away from the entertainment.
One thing that I can't stop remembering about the film is the blue filter that is used throughout the whole film. It really just bring this movie visually to a more vampire atmosphere and I really wish it wasn't strictly an action-movie thing – though to be honest the movie does have it's vampire fight scene, notably with double topping of cheese.
Fright Night (2011)
Silly, Silly, me actually thought this film was suppose to be a horror and, of course, parts of the trailer make it out to like that. Unbeknownst to me the movie was a Horror-Comedy and it really did like up to that title. The film is about a teenager who, to sum it up, find out his neighbour is a vampire. I have no idea, for the life of me, why I was expecting something along the lines of Rear Window with a vampire twist (which in my mind would make a great and very modern horror!)
Well, the movie is another to not be taken seriously, it has it's very funny parts but it doesn't in my opinion live up to the title horror. It's not a movie for those looking for a vampire movie filled with death and blood, like I was, but instead more of a teenage movie (as I did know!) with again, a lot of cheese on top.
Best wishes,
-Sary