This is the fourth in my series of reviews of a bunch of new items I bought from Bodyline recently for my birthday. I plan to do rather in depth accounts of each so I thought it best not to lump the ridiculous amount of detail pictures into one post.
S

hort sleeved blouse:

Details:
Title: L375
Colour-way: Black.
Size: M
Fabric: Thick cotton. A bit stiff.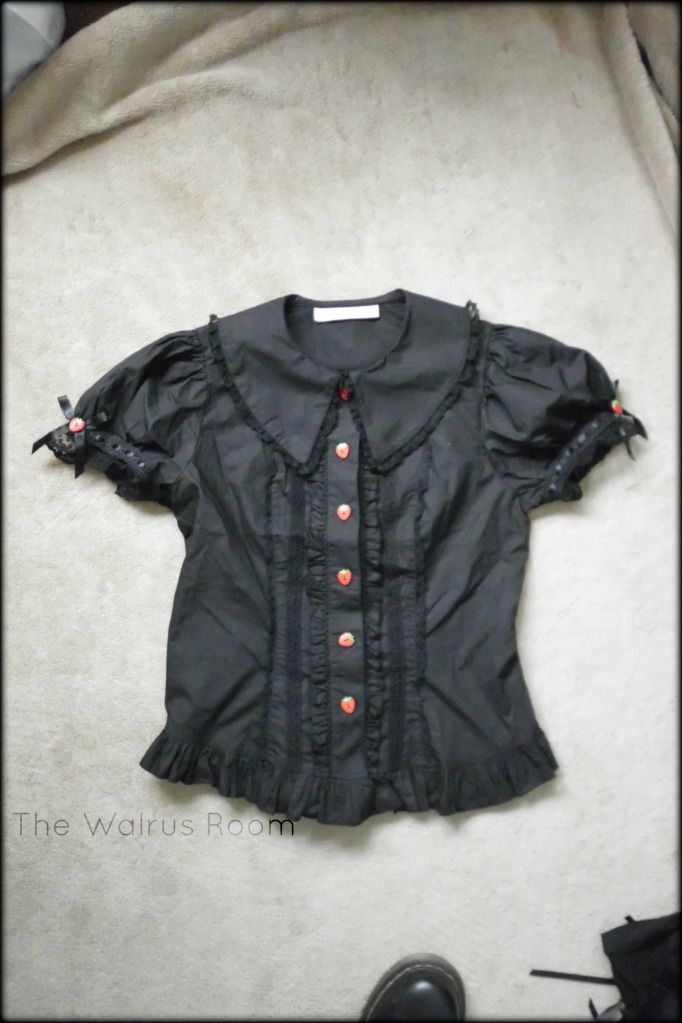 Un-ironed.
The lace is just as soft and nice as usual. It isn't the best in the world but it's still good.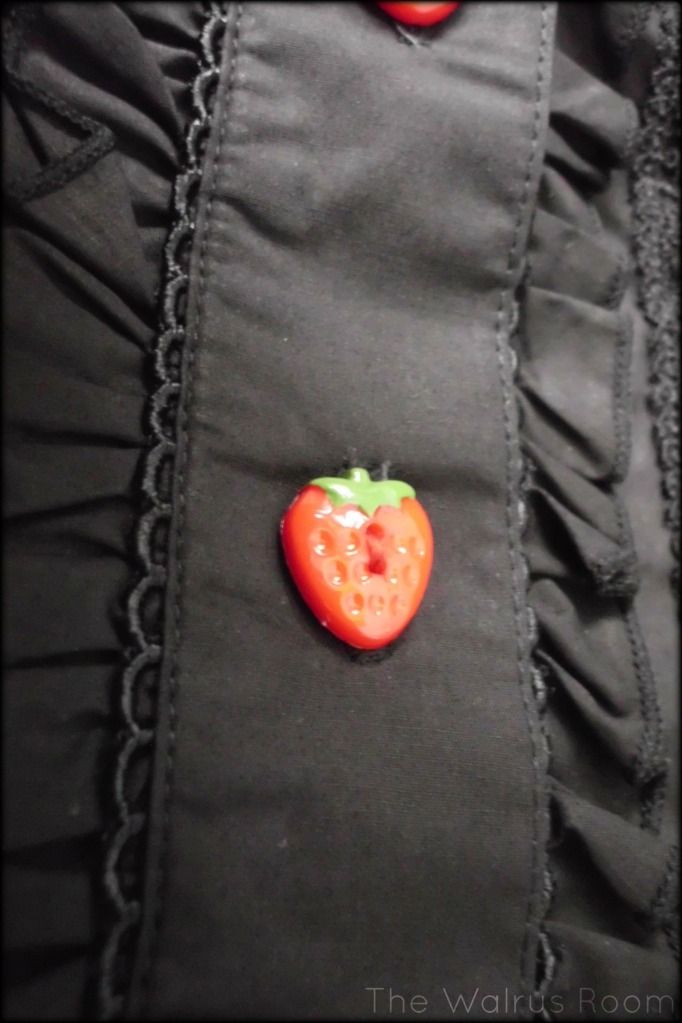 Strawberry buttons! That are actually the colour
in the link rather than this colour.
The lace on the sleeves is the only lace in this whole bundle of clothes that is scratchy and annoying. It's bearable but very annoying when I'm paying attention to it.
I adore the little strawberry on the sleeve with the bow though!
The annoying thing that confirms my want to get rid of the fake corset lacing is the fact that they use lace instead of grommets or even hoops or something. You wouldn't want to pull it too tightly or I just know it'll rip right into the blouse.
Long sleeved blouse:

Details:
Title: L114
Colour-way: Black.
Size: M
Fabric: Thick and VERY stretchy! So soft!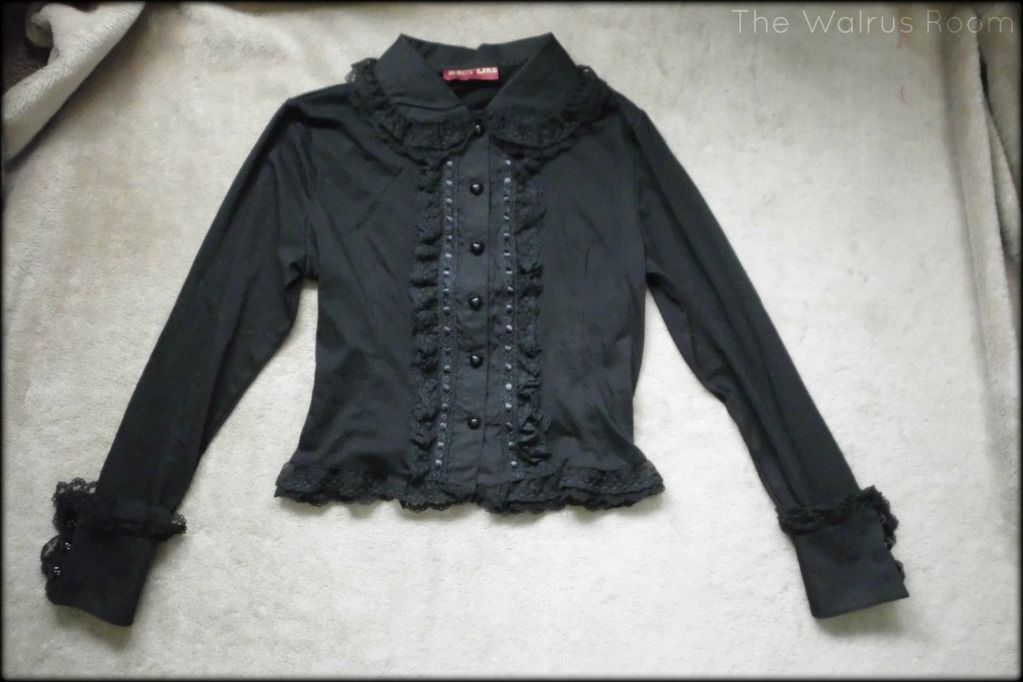 Un-ironed.
The fabric of this blouse makes me so happy! Considering it's one of Bodyline's cheaper blouses it's so good!
This blouse successfully stood up to the washing machine, as most Bodyline items do, and is just as soft as ever.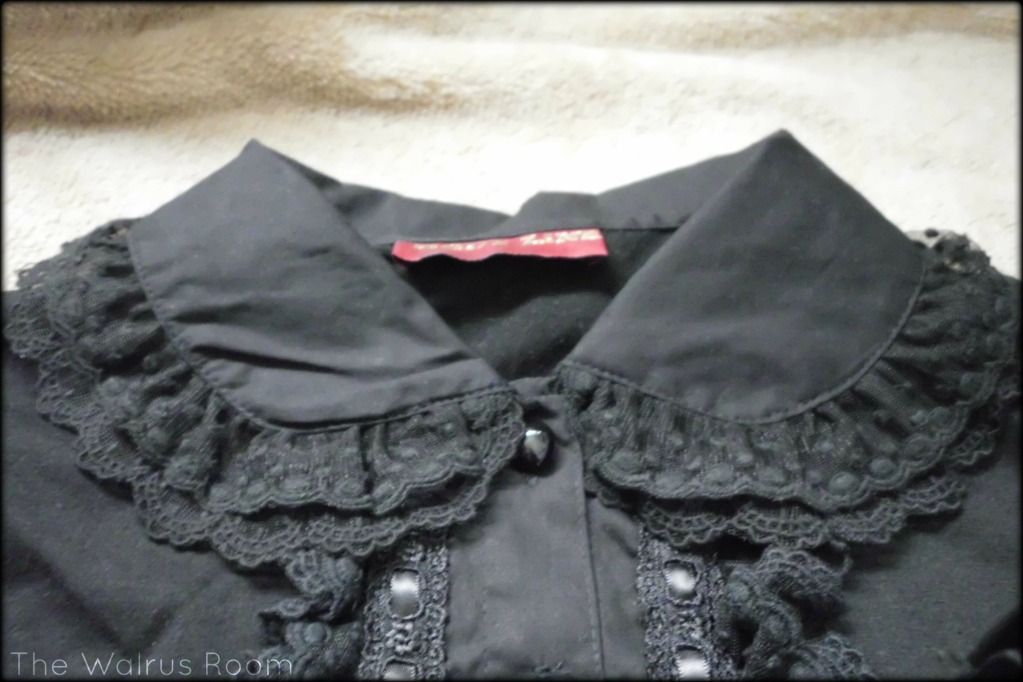 I think the collar is adorable.
Lace overload.
The cuffs of the sleeves don't actually undo. The buttons are fake but it doesn't really matter to me.
All the lace is pretty darn soft!
I love the heart shaped buttons!
The back has two corset laced parts which are kind of useless as the fabric is so stretchy.
Yet again with the corset lacing.
Overall, I love these blouses and can see myself using them in a lot more than just lolita co-ordinates. Actually they'd both be great for kinderwhore!
Best wishes,
-SaryWalrus