This is the first in my series of reviews of a bunch of new items I bought from Bodyline recently for my birthday. I plan to do rather in depth accounts of each so I thought it best not to lump the ridiculous amount of detail pictures into one post.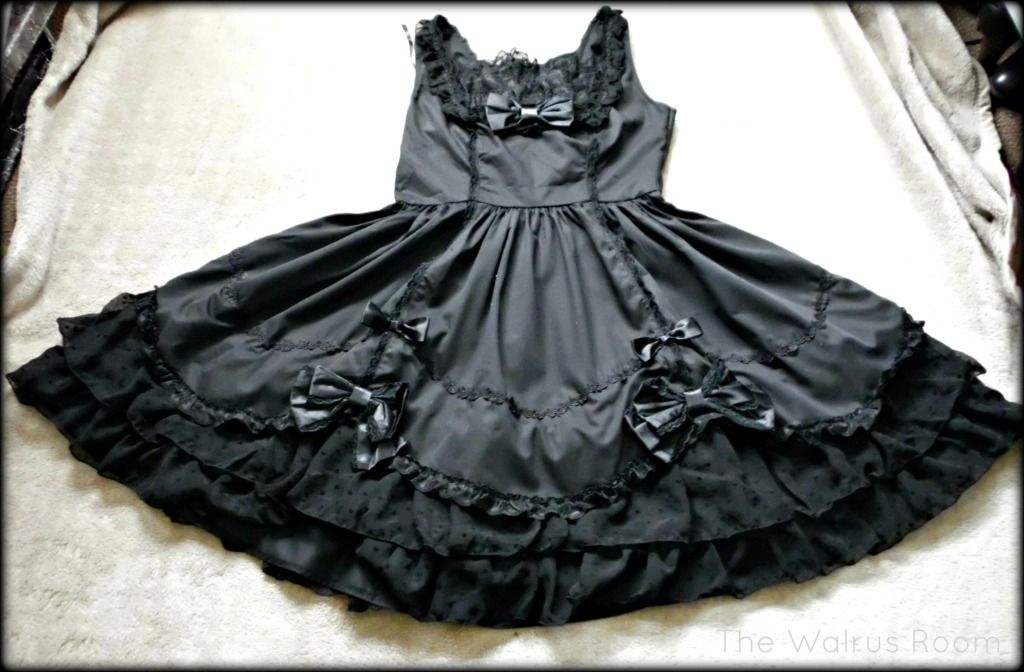 After being ironed.
D
etails:
Title: L329
Colour-way: Black
Size: M
Fabric: Heavy fabric, very thick.
The back is stretchy, VERY stretchy.
I'm considering taking out the fake corset lacing but that's only because I dislike them.
I've already cut off the waist ties. I don't like them at all. I never thoughts I'd be one to not like them but apparently I am. I'm planning on turning them into bows.
So much lace!
This is the lace on the straps.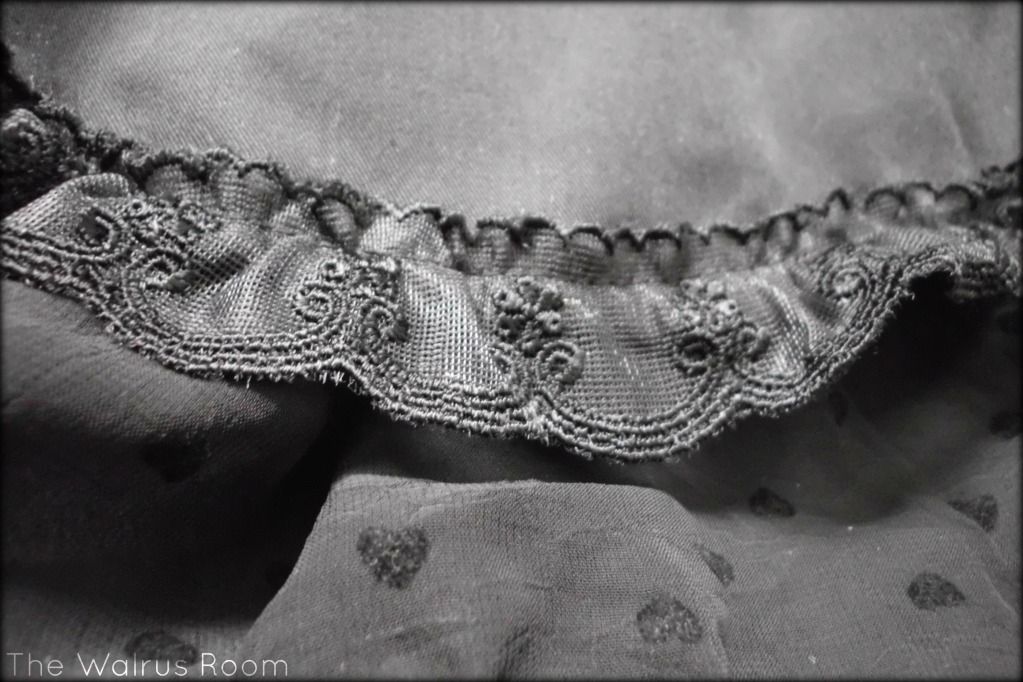 Lace from along one of the edges.
This lace above is a bit scratchy and loots a bit ugly as well.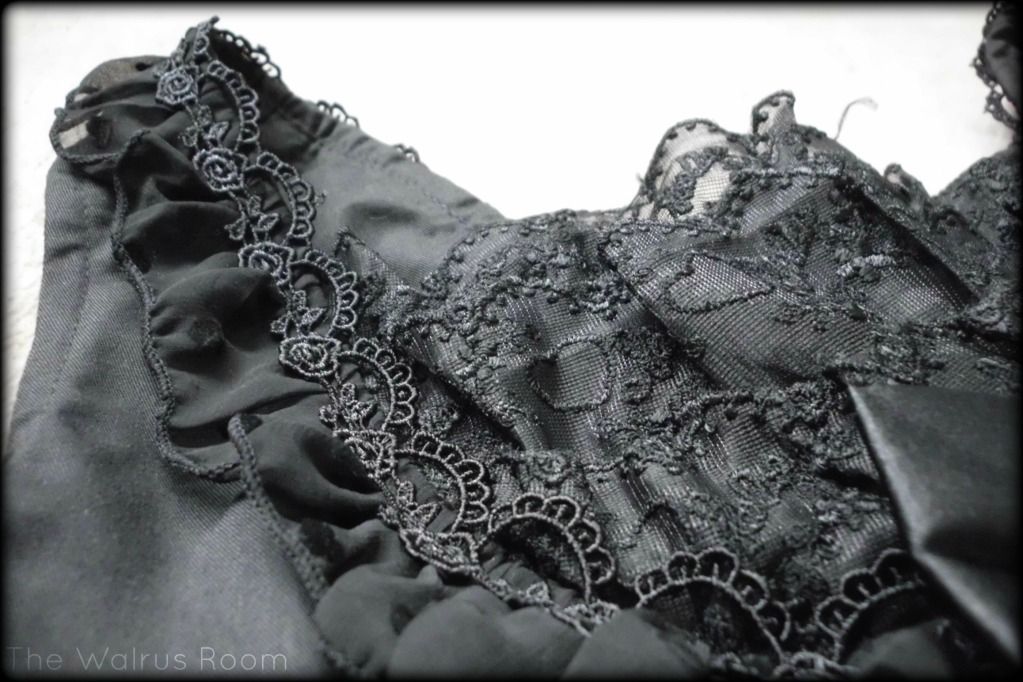 Breast area lace.
The big part of lace that doesn't look too nice on the picture isn't actually too bad. It's soft, a tiny bit scratchy but it shouldn't be touching skin anyway.
There's chiffon fabric layered at the bottom of the best and some chiffon ruffles around the bodice. It's very lovely! I love that it has little heart prints on it and the hearts feel like felt or some other soft fabric.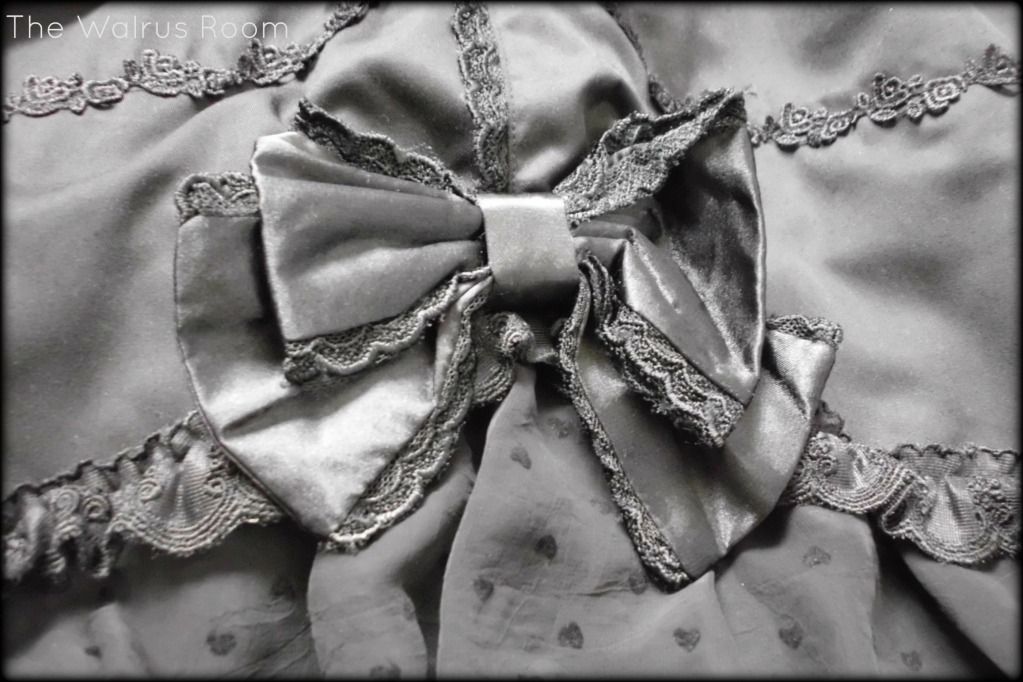 Bows.
I don't like that the bows are satin. I find it rather cheap – that's kind of why I didn't like any of the other plain black dresses on Bodyline. But oh well, it's only a small part.
The heaviness of the fabric is SO GOOD. I have found the zips on Bodyline skirts/dresses to stick out and make it puff out at bad looking angles when trying to get a nice poof. With the heavy fabric this doesn't happen!
Overall, I'M IN LOVE with this dress. It's my favourite so far (which isn't saying much considering the amount I have) but it's definitely taught me that prints don't suit me at all. I adore everything about this dress, apart from those darn bows, and I can see it getting a lot of use and holding up to the elements for quite some time.
Best wishes,
-SaryWalrus