This is the outfit in which I went to see Dark Shadows. I might look up the series it's based on and see how it compares to the film because to me the ending was a little crazzzy.
Outfit:
Blouse: Second-hand.
Cardigan: Jocks and Socks.
Skirt: EBay.
Stockings: Kmart, kmart, secondhand and a lot of unknowns.
Necklace: Second-hand.
Boots: Dr Martens, online.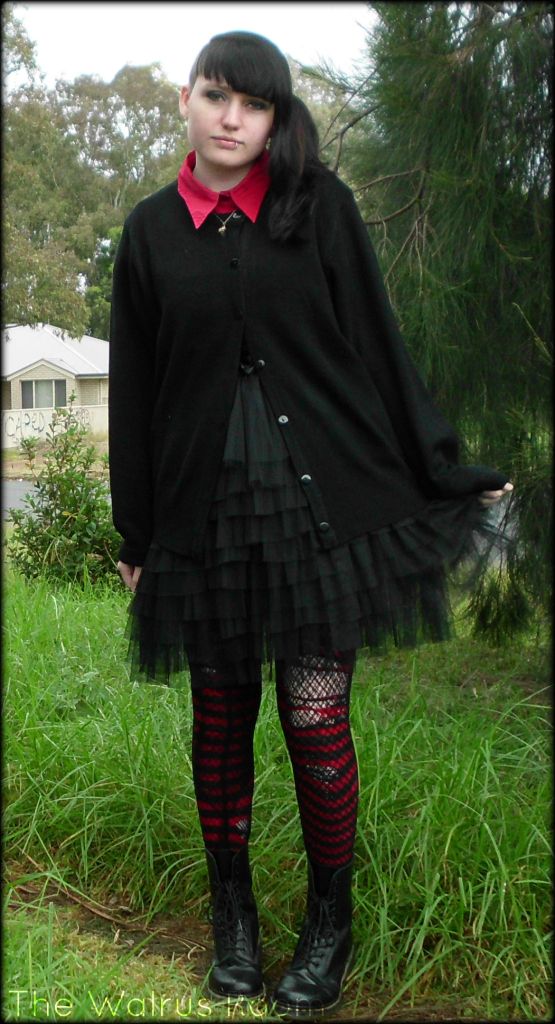 The only outfit picture I've really liked in a while. :3
You have no idea how many layers of stockings I am wearing. At least seven! It was absolutely freezing though it's getting colder and I'm getting used to it so why not pile on the fishnets!
What better to go with red and black than amethyst? Particularly my favourite necklace that most of my readers will know was given to me by my grandmother.
The blouse I'm wearing is very faded, I'll need to re-dye it preferably a darker red. It was given to me second-hand by my aunt and is actually at least four sizes too large for me though I always have it cinched at the waist anyway.
I hope you're having a great red and black week!
Best wishes,
-SaryWalrus.
P.S. I'm not posting a video today as I'm attempting to buckle down and study. Sometimes it sucks being a good girl.