Out of all the days in the week I chose the hottest to get nicely dressed. But the weather here's been changing sporadically – a few hours after these photos our power was knocked out by heavy winds and as I'm writing this it's raining heavily outside. Anyway, I doubt you'll want to here about my local weather. Besides this outfit was reeeeally comfortable. What more could you ask from a slouchy cardigan and a stretchy skirt? But it feels a bit strange as recently all I've been wearing has been black on black but I think the cardigan breaks it up a bit.
Silly blurry face.
Outfit:
Blouse: Second-hand.
Skirt: Cotton On – gifted.
Cardigan: Second-hand Cotton On.
Stockings: Anonymous. Have I expressed how much I actually really love how these stockings have ripped themselves? They're actually pretty good quality. I've noticed that thick stockings tend to rip amazingly if left to their own devices.
Necklace: EBay.
Shoes: Cotton On – gifted a while ago.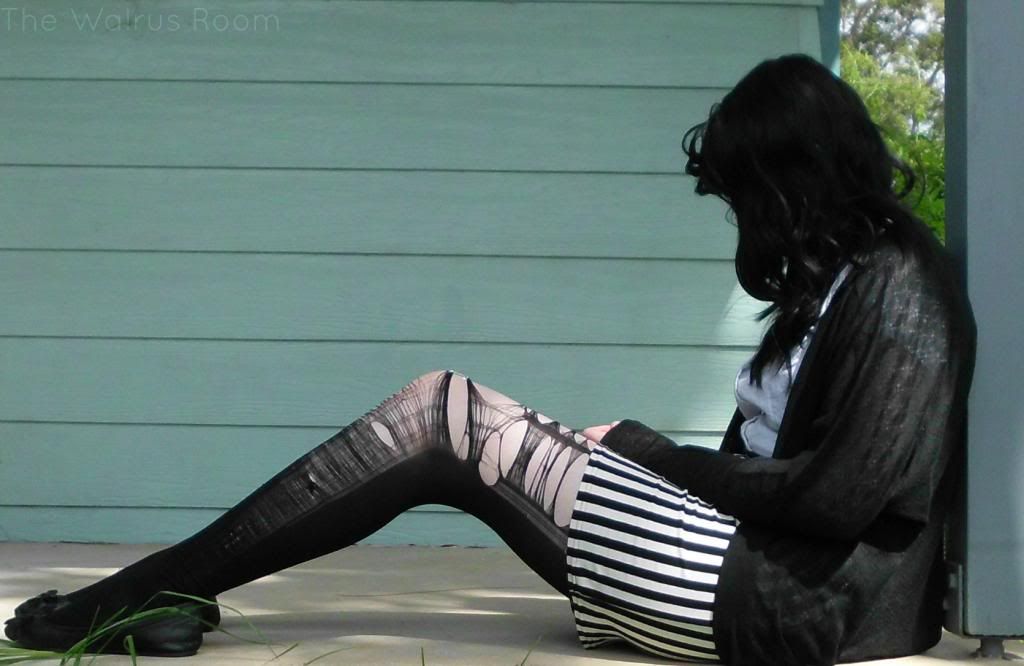 This looks a lot more dramatic than it was suppose to or actually was at all.
I promise you guys that I'm not a Cotton On whore. Every time I go into town to shop it's before eleven when my favourite thrift store opens. But I do have some awesome thrift finds to show you guys! Let's just say some Victorian inspired and studded things.
Looking for a vertically striped skirt has been on my mind for a long time and though it's a stretchy body-con skirt and I was actually looking for a thick fabric, figure skimming skirt, it was on sale and well, it's striped. The skirt was a gift from my brother, a very early Christmas present. I'm really loving my new camera tripod that was also an early Christmas gift. After moving out I hope to save for an SLR camera to go with it.