R
ecently, I've been trying to up my blogging game and so, for this outfit post, I actually left my front garden to take some pictures with my boy friend. I'll have to say it was really nice spending time with him and taking pictures. I've been wanting to show off my new skirt for quite some time but wanted to have some nice pictures and a decent outfit to show – not to mention it's been to hot to change out of my pyjamas.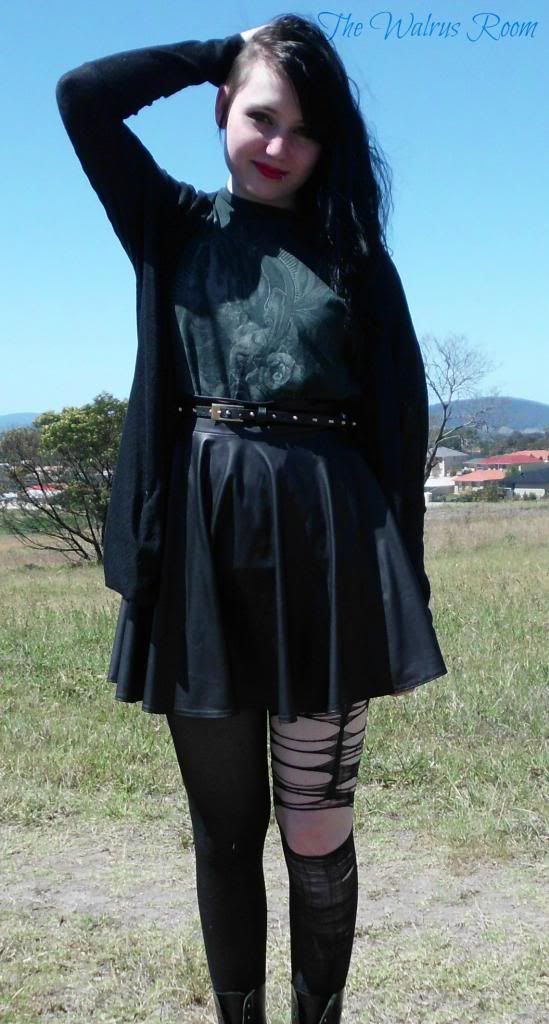 This was actually a joke pose that turned out not so terribly.
Outfit:
Shirt: Goth Angel – a local Goth shop that closed down years ago.
Skirt: Boohoo.com [here], I got it on sale – after they refunded me the first time even though they restocked a day later, which was not a fun experience. It's not the best craftsmanship in the world – which explains why they have to include a belt. It's rather stretchy and I'm a size nine (a half size) and ordered a size ten like usual. Which was a bad choice since it falls off my waist if I'm not wearing the belt just tight enough. Obviously, it's pleather not real leather.
Belt: Boohoo.com, it came free with the skirt. It actually looked silver in the picture but, oh well.
Stockings: Anonymous.
Cardigan: Cotton On – Second hand from my mother who had forgotten she owned it and never wore it. It actually has a bat-wing but it's not noticeable with my arm like this. Plus, it's also a couple of inches longer but I pinned it up. I'm thinking of sewing it at just the right height for pretty much everything I own. Oh, and it's crochet, because I love crochet.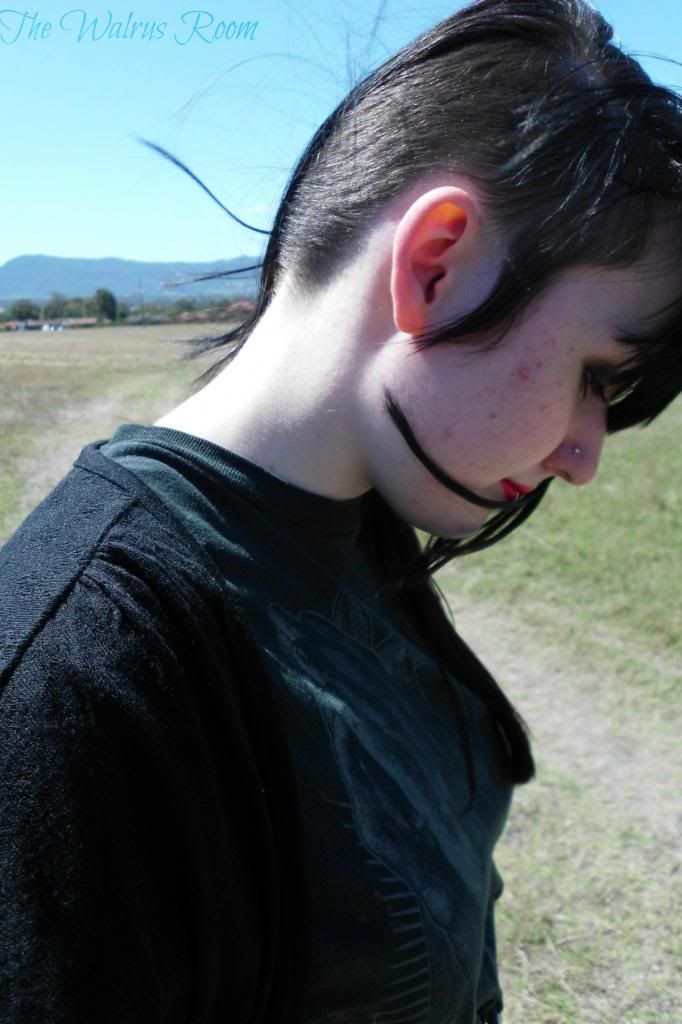 My hair today just didn't want to work.
Next time I look for somewhere interesting to take outfit posts I'll try and not choose somewhere so sunny and windy. But this is one of my favourite places in the world. I love that it's a field of wavy orange in summer.
Oh, and you can kind of see that I'm wearing red lipstick today.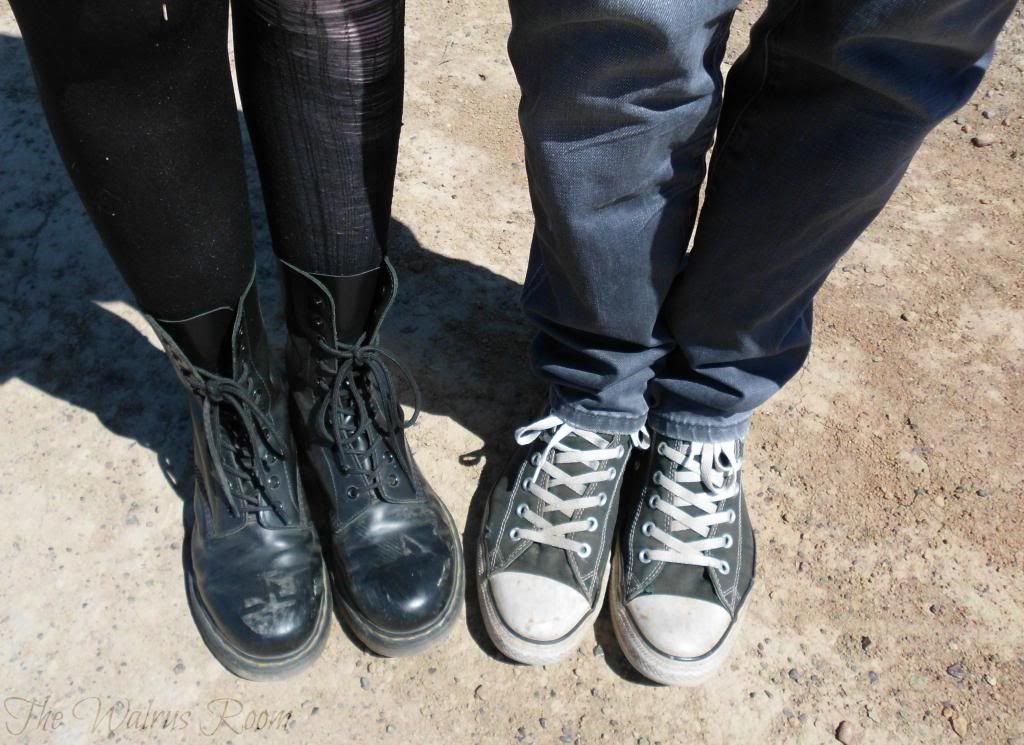 The bastard stood on my docs!
Coen and I both have awesome taste in shoes. Mine are Doc Marten and his are All Star – high tops.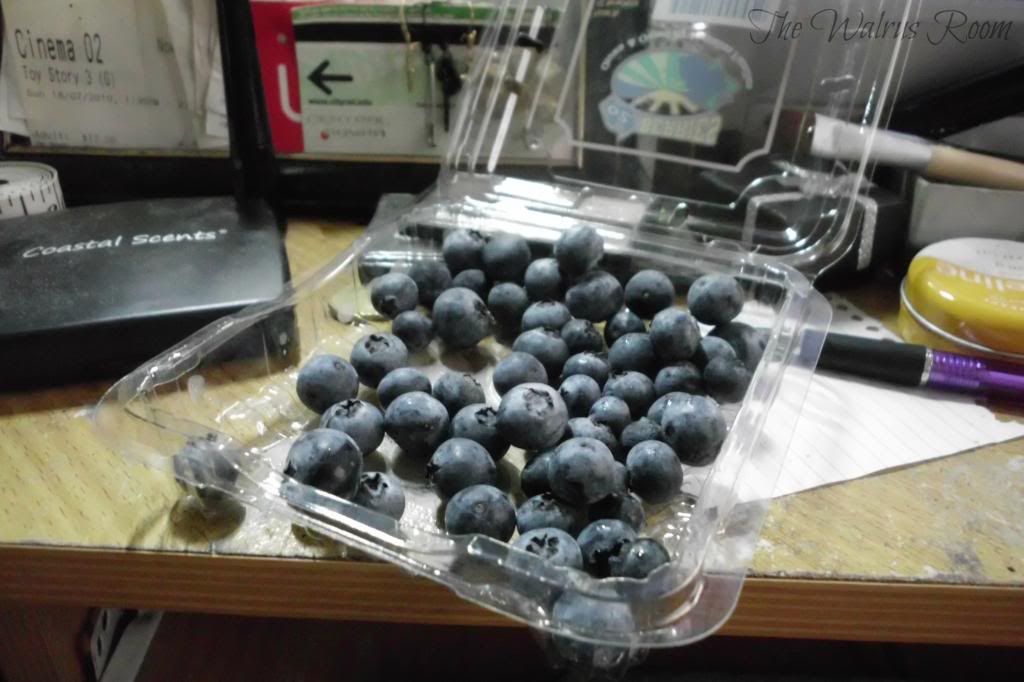 My life as of late has been strangely non-stressful. I've just been waiting around for my results that will dictate my next year at least, eating a lot of berries, mushrooms and salad and reading Sherlock Holmes and fashion magazines. It's funny to think I've been so inspired fashion wise in the last three days than I have all year.