T
his outfit has a bit of a red theme running through it with red lips, red floral pattern and red nails. Plus a bit of fifties and punk inspiration with some leather and roller curled hair! Surprise, surprise, I didn't actually leave my house today – rather I sat around and played with my camera while reading about fashion and healthy eating. It was the perfect opportunity to play around with styling this new blouse in contrast to this recent outfit [
here
].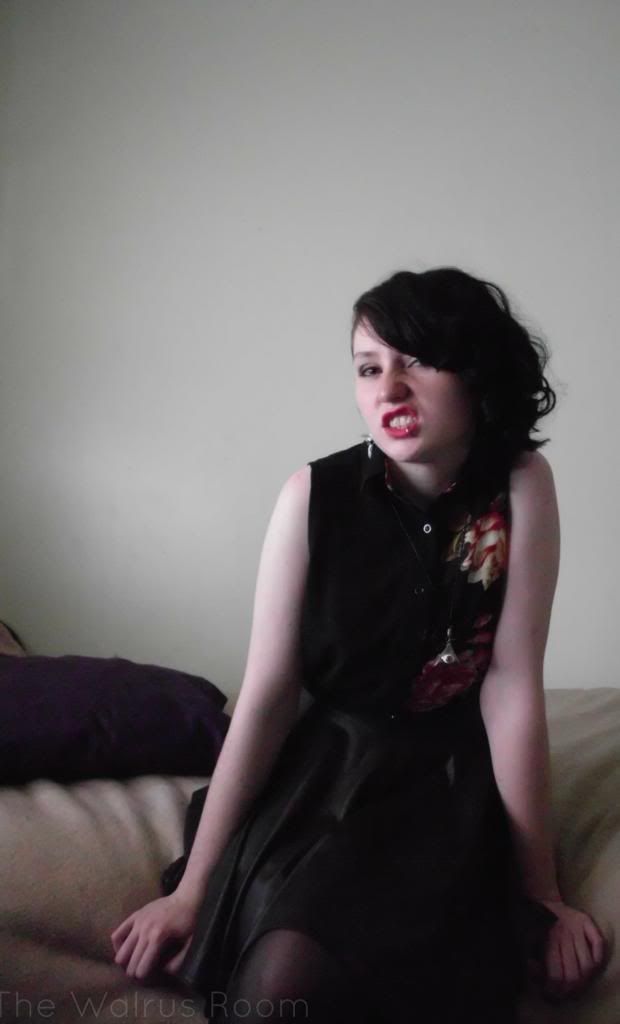 I really love this photo! :3
Currently, I'm in love with this blouse.

Can you tell I was playing around with poses? I felt a lot more free to play around with the camera since I the photos were taken in my room – on my bed to be specific. It had to be the bed since every other inch of my room is covered in posters, hung up clothes and my roof with fabric and chimes. I'm so surprised that it turned out so well, what do you think?
My hair was left in rollers all day yesterday and during the night. I can never understand how those without part of their head shaved can sleep in rollers since it's so uncomfortable! I've been practicing my brushing out technique and can honestly say I still have a long way to go. After lots of frustration I decided to leave it in messy curls (the humidity helped with that). Hopefully the curls will last into tomorrow since I don't use any products on my hair (or heat) that aren't a conditioning mask or hair dye.
Outfit:
Blouse: ROMWE.com
Skirt: Boohoo.com.
Stockings: Anonymous.
Belt: EBay.
Necklace: Second-hand.
Earrings: EBay.