This is a post in the series of The Goth Challenge altered by
Darkstalker Girl from a former Lolita Challenge. Find more information here.
If you look through my outfits, at least my current outfits, you'll probably be able to guess my five closet keywords at a glance. They make it easy to pull together an outfit in the morning when you know exactly what you want but can it constrict your from moving on from these pieces?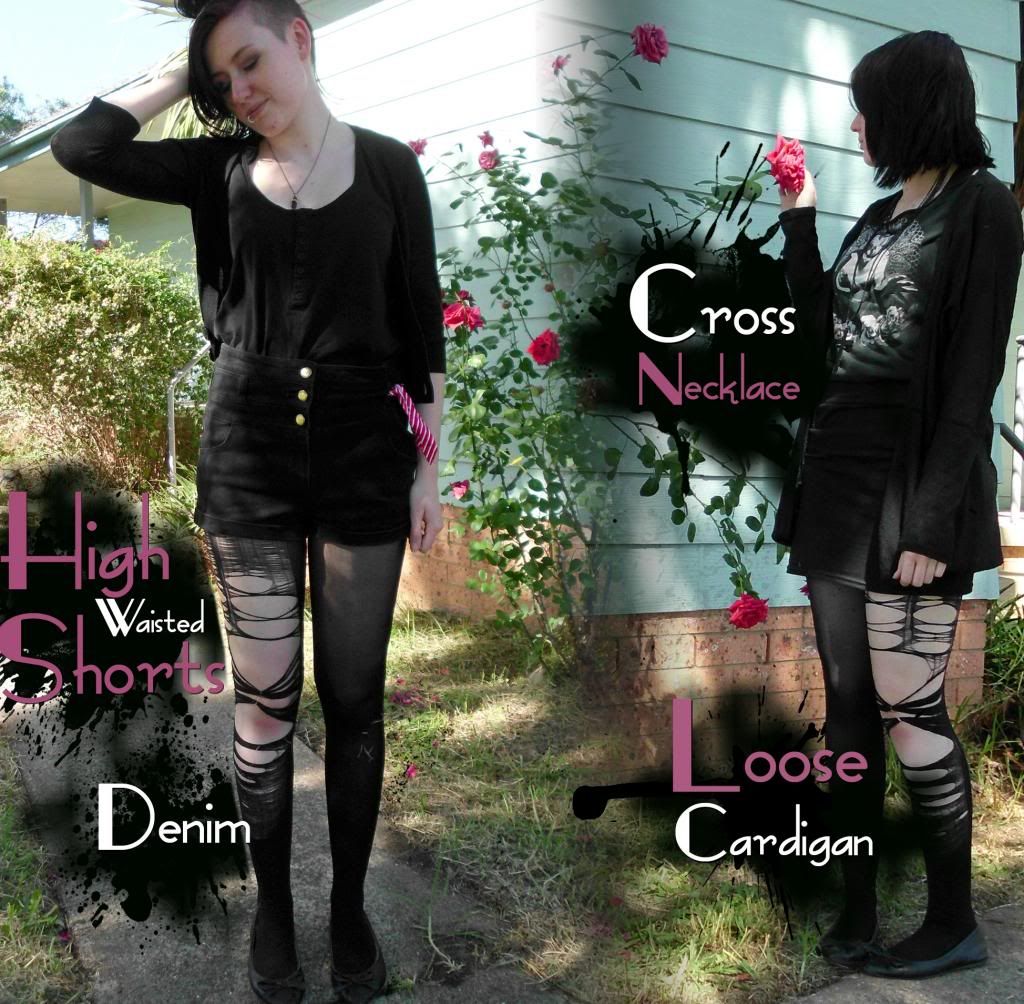 This was suppose to be a before and after of my attempt to branch out but then I realised that almost everything is the same. I did manage to introduce shorts instead of a skirt and denim.
My Keywords:
High-waist
Boots
skirts/dresses
Ripped
Cardigans
How keywords can help you.
Finding your fashion keywords are a great way to define your own personal style. Personal style is something that can help anyone look put together and to be comfortable everyday. It's also a way, as I noted in this post here, to look at what kind of style you want to achieve in the future. You may want to wear more pink or focus on your jewellery in an outfit. But then I am a hypocrite.
How keywords can limited you.
Wearing the same kinds of clothes everyday gets old fast. It's comfortable and easy but there's no exploration or creativity anymore. I'm not saying that wearing the same thing every day is bad (Oh, man. I wish I could wear the same thing every day!) but if you're as interactive with your wardrobe as I am or creative these keywords limit you from finding something amazing.
Use your keywords to confront yourself.
Do you wear skirts everyday? Try some jeans. I haven't worn jeans in at least a year. And even though I'm more than frightened of what might occur from this mess of clothes I haven't tried it's worth it to experiment.
Take the change slowly! I'm not saying you should throw out everything you've ever worn before. That just isn't realistic and I can barely afford to go to the movies than buy an entirely new wardrobe. Throw something different into the mix! But not too different unless you want the extra challenge of nothing matching. For me, I can usually throw a pair of shorts into my mess of skirts and have something entirely different.
Start with accessories or little things to change up your looks. It's cheap, simple and versatile. Start belting your dresses or untucking your blouses. Add a crazy pair of earrings or a kickass shade of lipstick that gets you moving in the morning and inspired.
Adding a new colour to your wardrobe, particularly in a versatile and basic piece, can change everything. Every outfit will look fresh again, even if it's as simple as a purple cardigan.
Get inspired to try something different. Stock up on my some magazines (Fiend, Gothic Beauty and Alt Fashion are always good) or search the web.
Try looking through an alternative perspective, at the clothing that you don't want to wear to gain insight into what you want more.
They let you understand were your comfortable and that's great but it's even better to use these to expand on especially if you're stuck in a rut. Wearing too many high waisted skirts? Buy a pair of jeans for the first time in ten years (that's actually what I'm doing right now and it's actually quite frightening).