I'm not joking when I say that I am a shop-a-holic, it's a serious problem of which I like to distract myself. That doesn't change the fact that one of my favourite things to do is make lists of things that I'm craving – however non-essential they are (and they always are). Which is why I'm bring you my current wishlist. At least something at least fractionally productive can come from it!
I'm in lover with Halloween candles and mugs. It's not very often good quality of them come around my hometown though. There's always eBay!
Band shirts. I'm currently severely lacking in the band shirt department.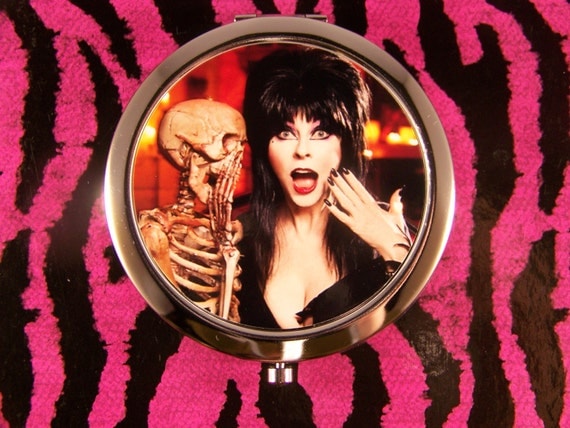 Image from the Etsy seller here.
A mirror for my bag. I used to carry my Manic Panic Anemic powder with me, but my last one broke into pieces on a particularly bad day. The one before that was trod on, while in my bag, and the mirror smashed everywhere. This pocket mirror here on Etsy seems both sturdy and, well, Elvira is my favourite ever!
Sugarpill eyeshadow in Bulletproof – though I'm trying to cut down on my make-up spending until I use up the products I have now.
Band patches and pins for my new blazer and leather jacket! I have lots of plans for DIY. I just need to go thrifting for a denim jacket to bleach, distress and sew patches to!