*Do not watch the video as marked by the asterisk, if you are triggered by issues such as weight,
eating, self harm, etc as it gives unrealistic expectations of diets (as
body-types are different it cannot guarantee you any particular bodily
change) and not so positive body imagery.
Bellow is the first interview with Lilly Peppermint of Clockwork Mice and Toy Spiders (here) in my series of Plus-size Fashion, Privilege and The Scene With Alt Bloggers. For
more information on this series or to see a list of all of all the bloggers that took part in this series please, by all means, click
(here).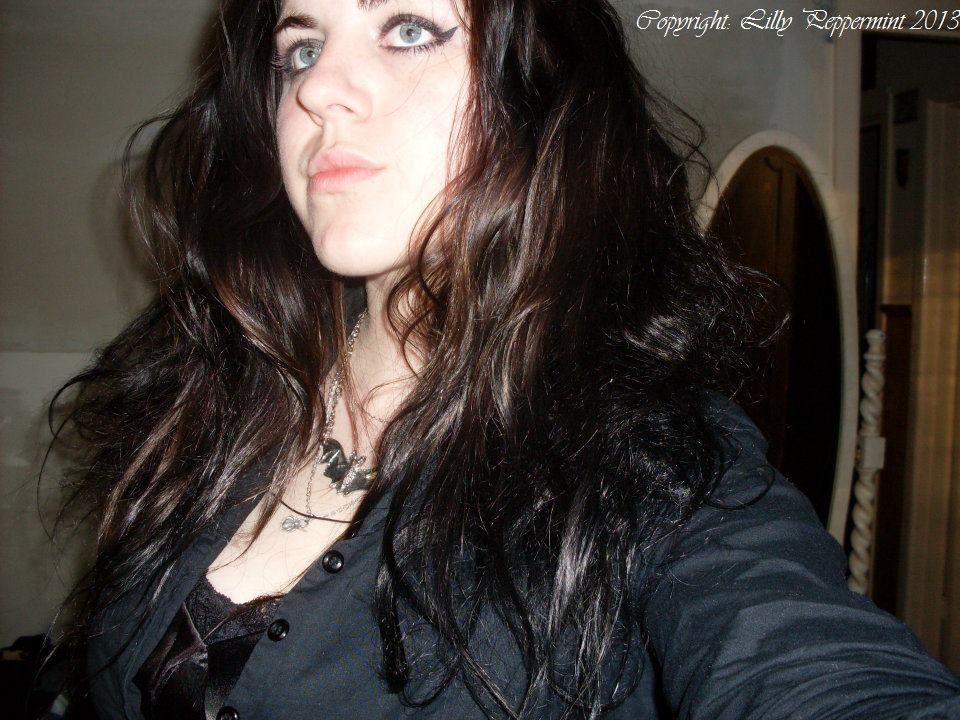 Used with permission by Lilly Peppermint
Q&A's:
Are there any online stores that you would suggest for
those that are plused-sized and/or alternative?
Frankly this is difficult to
answer as I don't shop online for clothes for the very reason that my girls are
difficult to find clothing for that fits or is flattering in the right ways.
However a store that comes to mind is Black Milk, as they sell gorgeous
leggings that I am lusting after. Also, there are certain corset shapes that
particularly suit an hourglass waist, a beanpole figure or a curvy figure or any other shape and
corsets are pretty much adored by Goths of all genders. One just needs to find
the 'ideal' corset (if such a thing exists).
Could you give any tips for
gaining body-positivity, for accepting yourself or improving your mentality in
general?
Something that took almost
seventeen years to realise is that one simply cannot change the shape of their
skeleton, no matter how much dieting, purging, exercising or fasting. That
doesn't mean that responsible eating and exercise aren't healthy or encouraged,
but I definitely needed to be more honest with myself that I would never be a
size 10, as my skeleton just isn't that shape.
Dressing clothes to fit your body
properly is also a good thing, rather than having to fit the clothes. What I
mean here is a well cut piece of luscious clothing such as a dress or shirt
made of a suitably lovely material can really make a difference about how you
feel, move and see yourself, nothing uncomfortably tight or pulling up in the
wrong places, and all of these really help to pep up your confidence, which is
of course a good thing. I don't mean 'women or men cannot wear x, y or z' or
other BS reasons. Oh, and good clothing doesn't have to be expensive, but
lately I've found that you really do get what you pay for quality-wise.
Do you think it's hard or
intimidating being a plus-sized goth in what seems to be a subculture/s that
idolise models such as Razor Candy/etc that hold unreal expectations?
Razor Candi is gorgeous, like
most Alternative Models, but I don't really know much of her outlook on life. I
tend to find that people's attitude towards body shape, healthy eating and
nutrition affect me more than their physical size or appearance. A different
example would be Adora BatBrat. While I think she is very cute and I do like
her style, I don't agree with her attitude to size, shape and what makes a
'pretty girl' and I do not believe that she has a healthy and balanced diet.
(For example
this video
.*)
Do you have any models,
artists, musicians you'd like to bring attention to? Preferaby in relationship
to body-positivity, plus sized fashion/modeling, inspiration etc.
What comes to mind is a quote
from Voltaire, from this video
here
.
"In the Goth scene, you could be a big girl, you could be buxom, you could be
curvy, you could be super, super thin. You know, that's really not so much of
an issue. It's not so much of an issue what body your parents gave you. It's
more what you do with it and the aesthetics that you apply to yourself."
Another writer who is
prolific in the scene would be Jillian Venters. She is also someone who does
not have a rail-thin physique and yet is always well dressed, confident and well
respected within the broader Goth community, both on the internet and in the
real world.
If you could give advice to
yourself as a younger alternative person on confidence and acceptance, what
would you say?
Please, remember that you
will grow into your body when you turn eighteen or earlier and to not feel
disheartened when you don't meet up to the stereotypes of the Goth scene and
what is portrayed by women in general. Also, get yourself out of negative
situations as much as possible as these are unhealthy and destructive for your
mental and emotional wellbeing.
Do you
think the subculture needs to modify it's outlook on plus-sized
models/musicians?
I think our society in
general needs to change their attitude now about how people are perceived.
Women are constantly bombarded with images, advertising and propaganda that
promote an unrealistic body image and the need to lose weight, not for health
necessarily but for beauty and sexiness. This has a deeper meaning that is to
do with objectifying women as secondary beings who exist only for the pleasure
and gratification of men, and need to conform to a single size in order to do
so. This could be taken further and whole essays could be written on the topic.
Of course, I don't have a problem with being sexy or being a sexual being (I
would be a hypocrite if that were the case!), but I don't believe that women or
men should equate sexiness with success.
The Goth scene seems to be one step ahead with this attitude. While sexiness
and sexuality are still considered to be desirable traits, for men and women,
we seem to have dropped the 'Must be hot AND a size six' ideology. At least,
that is from my own observations. It could very well be different in different
cities.
Is there
anything else you'd like to mention?
In my local scene there are
men and women of all shapes and sizes, (and ages!). I even know a lady who only
recently took time off events because she's now 9 months pregnant. Most people
tend to focus on their own being and having fun with their friends than making
a scene and being a bitch to others. Those people do exist, and alcohol and
other factors can amplify the problem such as jealousy or aggression, or make
things worse, but certainly one is going to have a better time if they focus on
themselves and their significant friends rather than people who are
acquaintances at most.