T
hese photos were taken in a little flowery and vine mess beside my house. It's so overgrown it's hard to get in there but at the same time in spring it's filled to the brim with flowers – have I told you guys how much I love flowers? Anyway, I had just got home and wasn't looking to walk too far (okay, I never feel like walking far), and so, this was the perfect place.
Blouse: ROMWE, skirt: Cotton On, stockings: Anon, socks: Cotton On
Boots: Doc Marten, cardigan: Jay Jays (second-hand).
Don't mind my fuzzy hair. I usually take outfit photo's after one of my shorter days of Uni – but that still means trains, wind, grocery shopping and six am starts. Not to mention I had curled my hair. It was being very curly and wouldn't settle, even after about ten brush-outs, so I ran my fingers through it with a bit of water on them. Note to self, don't brush slightly wet curls – they could kill you.
The Blouse
When I set eyes on this blouse I was in love. Funnily enough, I was in love with the red version (oh gosh, I might go back and buy that too), but I decided on white since I needed more white blouses and it's be easier to co-ordinate. I'm really loving the lace panel at the front!
On the topic on lace, by the pictures I thought the lace was going to be better quality. It's okay in parts, soft most of the time, but it has those ugly fishnet pattern that does not belong in good quality lace. But for eight dollars in total, I'm pretty happy with it! It fits better than this floral blouse from the same store – which bursts open a bit on the bust-line.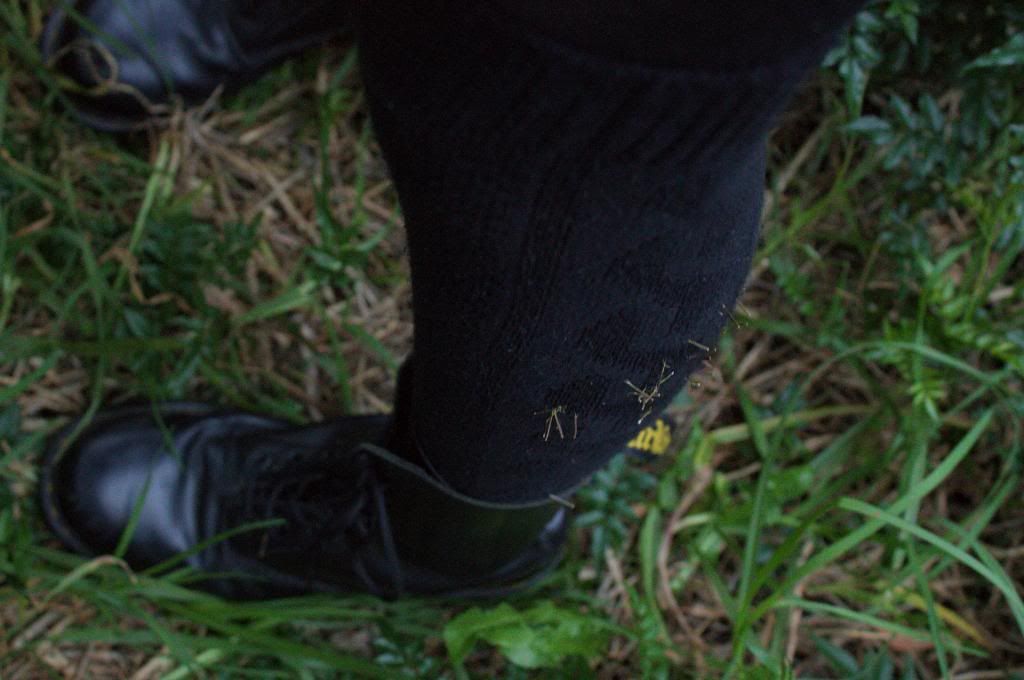 Walking around in the long grass of my backyard can be deathly (to socks that is)!
The Lace Tights
Oh my god, they are horrible. I don't think I will ever wear them, or could even (since the lace is really scratchy and bad). I'll have to find something to do with them; I could try and layer with them. But in all honesty I would be a bit embarrassed to wear that bad of quality. They're going into the pile with my now replaced, broken house shoes in an effort to not waste my money too much. Damn you last minute decisions!
Well, I'm going to go pass out in the remains of the last few hours cooking and researching an English essay that is not going to plan! But while I'm entranced in a mantra of "only seven more days until a break" be sure to let me know what you guys are up to bellow!