Warning: this post is opinionated. Please don't be offended if you don't agree. But if you are I would love to hear your rage in the comments bellow! Also, beware of dolls-heads, if you're frightened.
I
may or may not have been reading too much of The Fashion Police but I often talk about the good that Gothy trends can do for us alternative's wardrobes. But what happens when it all just goes terribly terribly wrong? I decided to go out into the world of internet fashion (oh god, this is going to be traumatising isn't it?) and bring back those trends I think are the worst.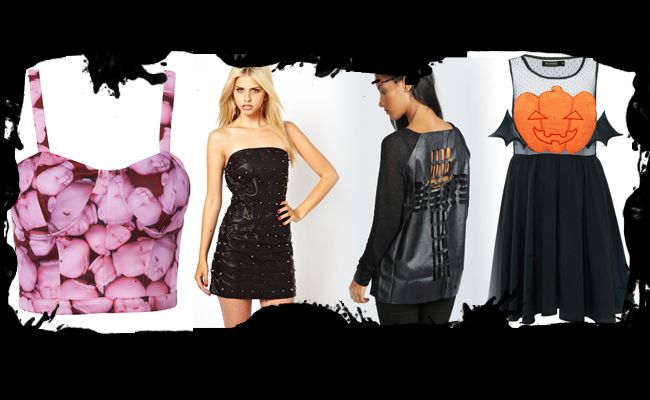 Links are below.
Is it bad that I'm in love with this crop-top with pink severed dolls heads on it? If you're loving it might want to check out the matching skirt here. To be fair I'm pretty sure it's in ROMWE's Halloween section, but honestly, that is a lame excuse for a costume.
Oh, you've had enough?
The face of Satan for just 36.89! – Link
I'm not sure whether I love this or I would use it as a masochistic doormat. In a lot of these pieces I'm stuck thinking the concept is good but what. Then to claim it has "a truly feminine twist"? Just, no.
Maybe I should dedicate this entire post to ROMWE's Halloween line. It may not be doll's head tier but it is just barely covered your breasts with a large pumpkin tier.
This is the "business in the front, party in the back" piece of this post. I'm sorry Boohoo, but this is the potato-sack of cutouts and the mullet of sweaters. Not to mention the quality looks questionable at best.
I'll leave you all with one of my most recent little rants. What is with the newest trend of mislabeling things as kimonos? Honestly, why is everything and their mother suddenly a kimono. If you know, drop me a line because I'd sure as hell love to.
Alternatively, let me know how wrong you think I am, or what you're not exactly loving this season.