I
t all started during study break. I was stressed but at the same time really bored, the temperatures were doing their same-old freezing one week and murdering my soul the next as is per usual in Spring. With the added annoyance that I'm re-doing my entire wardrobe, putting on makeup was just too much to ask for, so I didn't.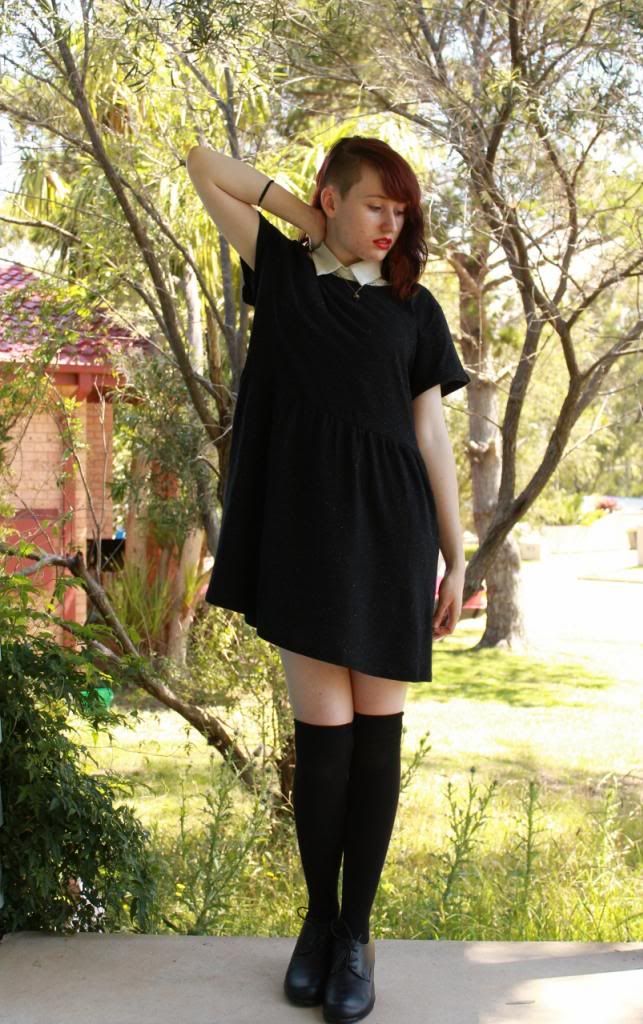 Can you tell I've been practicing my modeling?
Outfit: Blouse: ROMWE (Apparently not on the website anymore),
Socks: ASOS, Shoes: Rivers, Dress: Factorie.
This month I've stopped doing my makeup. Maybe next month too. This change in my facial routine has helped my skin a lot. My skin isn't
flaking like it used to, instead it's nicely moisturised. It's brighter
and my acne has decreased. Since I've been wanting to focus on
lipsticks, they've added a nice little bit of colour so that my face
doesn't look washed out among my dark outfits. Plus, it saves time, especially on days when I'm running into town to get coffee with the boy, and pick up a book I pre-ordered months ago but kept forgetting.
As for the oversized dress, I was never intending to making a statement. If you've read my post Almost Ten Points on How I Dress, you'll know that wearing clothes that don't fit is a common thread of my being. If I find something I love I will find anyway to wear it. This dress for instance was the last, on a sale rack and I was so close to passing it up. (Just before we were about to leave for the next train I ran back and bought it!)
Besides, more and more I'm finding that I'm in love with what the Mutant Stomp Friends' calls shapeless black things. What do you guys think? Are you a lover of all things oversized and 'shapeless'? On the flip side, what's your take on no makeup months?