T
his morning I found myself standing alone in the kitchen (I like to get up early as to not have to deal with other people). I found myself talking too loudly to myself. "It's so weird that white blouses go with everything. Fuck, it's weird." And so, aptly enough, I ran to the computer, abandoning that coffee I was waiting to make to write this post about white button-up blouses.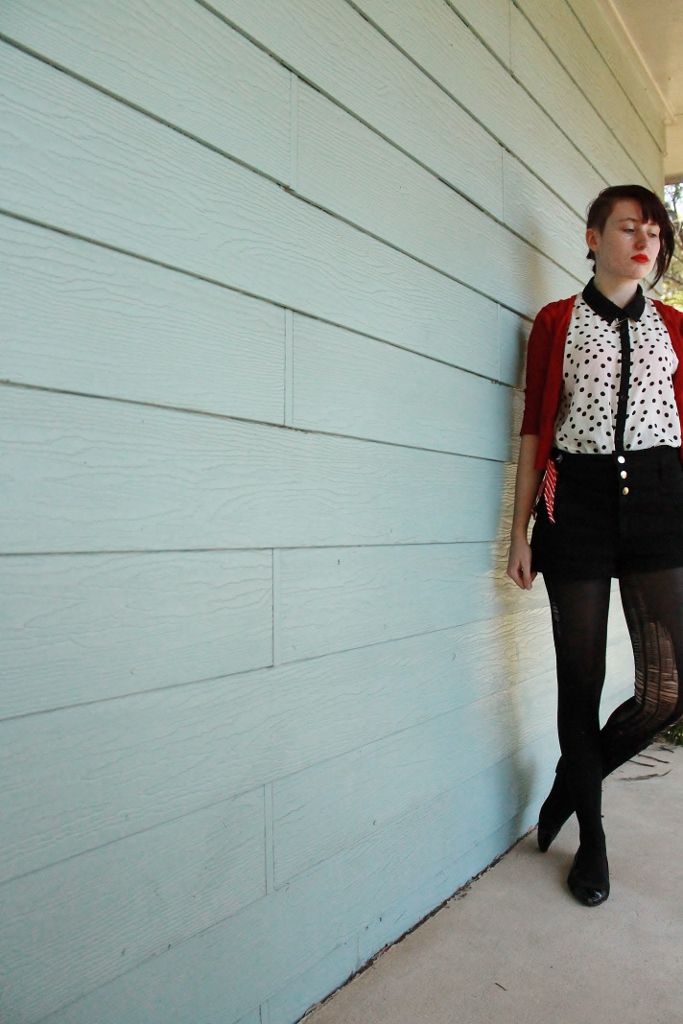 Blouse: Kmart, Shorts: Thrifted, Stockings: Anon, Cardigan: Mother's.
This white polka dot button up is a very recent acquisition. While I love it to death and I'll wear it until it's in pieces I was a bit annoyed that I added yet another collared blouse to my wardrobe, to sit among five others. The truth is, that the white button up is just the most useful!
Monochrome works awesomely with a trio-ed colour scheme; I couldn't help thinking of the White Stripes with the red, black and white above. The button-up can be worn casually or elegantly, with anything from high-waisted shorts to a maxi-skirt. And lastly, even the button-up itself can be worn in so many ways. You can knot it, tuck it in, define your waist, layer it over a mini skirt, wear extra long shirts as dresses and even undoing the top button creates an entirely different look.
How do you wear a button up blouse? Are you as obsessed as I am?