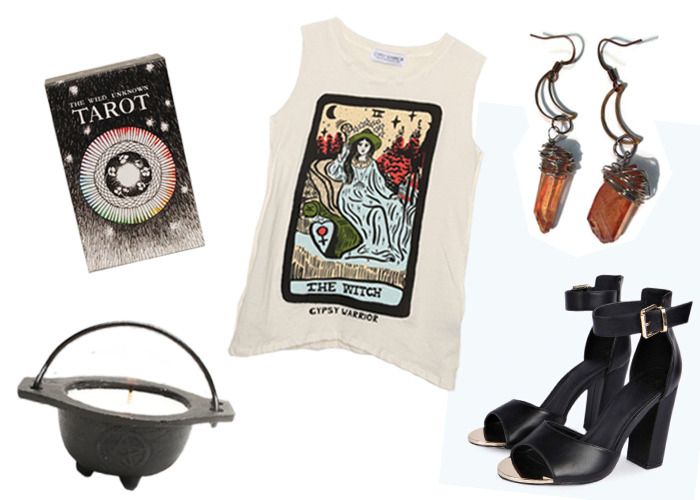 I
f you're gonna dress like a witch, you damn well better live like one to! Ever since I took a chance on a pretty little book called "The Wild Unknown Tarot Guidebook" (aka a super simple beginner's guide to tarot) I've promised myself I would buy a tarot deck and learn how to read cards for myself.
When I first picked up the Wild Unknown Tarot Guidebook, I wasn't sure if I would ever read it. Tarot always seemed like a field that took years to learn and as such the book was probably filled with lots of technical language and
super
tiny font!
Actually no! The book's number one pro is that it's more than just about tarot. Every page is filled with amazing artwork and super positive messages. Even if you aren't using it to read a tarot deck, it always seem to come in useful when you need a quick pick-me-up.
If you're looking for a book that will give you a lot of insight into the practice of tarot, this isn't the book for you. But if you're inexperienced and want a jumping off point to grasp the very basics and jump-start your journey in a positive and ethereal light, get a hold of this book asap!
Fast forward several months and I'm finally getting back on track! I've bought my first tarot deck and I'm excited to start learning. Better late than never, right?
I know some of you that take the occasional glance over at my little place on the internet are experienced pagans and tarot readers, so I welcome any advice or links to articles that have helped you. One thing that the Wild Unknown's guidebook has taught me is that no one can give you all of the answers, you have to try it for yourself and find your own way of reading cards! What do you think?
What I'm wishing for: The Wild Unknown Tarot Deck via Gypsy Warrior, the Witches Brew candle via Gypsy Warrior – it sits in a little iron cauldron! The Witch muscle tee by Gypsy Warrior's house brand, wire wrapped Quartz crystal earrings by Emely Rose Boutique on Etsy and platform block heels from Boohoo.com.