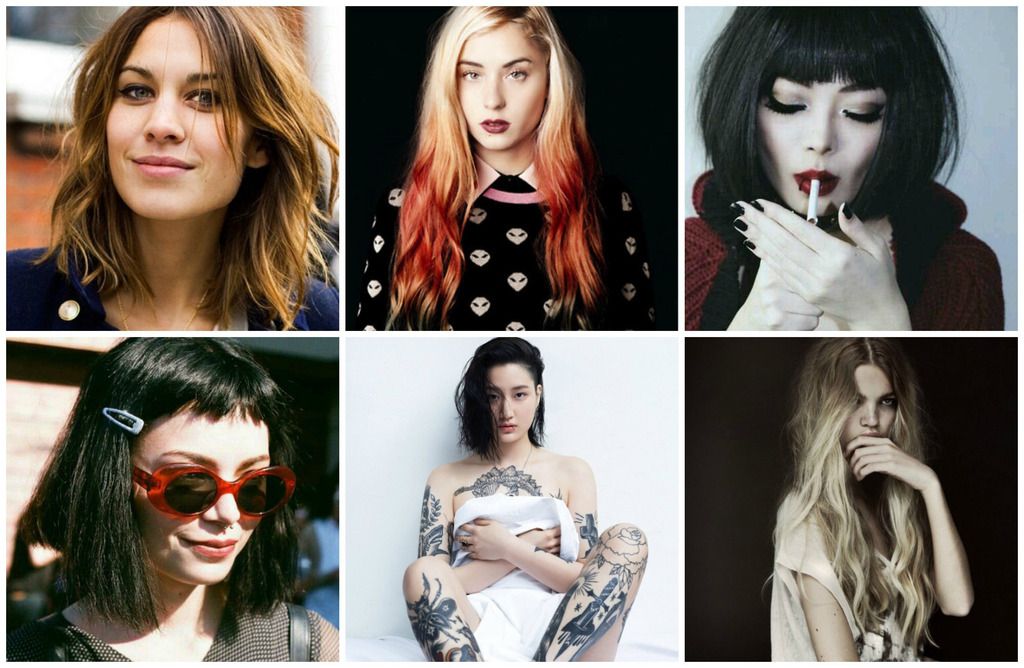 I
've been growing out my dyed hair for over a year now. It's been torturous because every time I get bored with my style or go through an emotional experience the first thing I want to do is chop off all of my hair immediately and bleach it into oblivion.
While I'm waiting waiting waiting for my hair to grow out let me tell you what I'm planning.
The images above I've been collecting on my desktop for months. I feel like they say grungy, easy to care for, no-heat styling required and they all have that little touch that makes them look finished. But that's just what I feel when I see them, let me tell you more about what my hair really says.
WHAT DOES MY CURRENT HAIR SAY?
My hair is both the laziest part of my style but it's also the most important. If you follow my blog you might know that I've had the same side cut for centuries years. It's something I've grown to think of as a part of me. And it describes my style without words:
It's a no fuss hair style. Just brush and go!
It's also effortlessly interesting and alternative. I don't need to pile on bat motifs and crucifixes (unless I want to) in order for my underlying love of alternative style to shine through!
Now that you know my two major style goals you might see a lot of this in my hair-spiration.
WHAT DO I WANT MY NEW HAIR TO SAY?
It's obvious to see, there is no way I'm getting rid of my side-cut anytime soon. What I do want to change is:
I want my hair to be professionally cut. No more scraggly ends that I cut myself.
I'm growing out the red and I'm aching for an ombre; my natural colour to blonde. The great thing about ombre is that I don't have to worry about my roots growing out all the time. Originally I wanted to go fully bleach blonde but I know that I'd never keep up with that.
I want to be able to change it easily. With a blonde ombre I think I'll be able to achieve this with a couple of Manic Panic vegetable dyes. They're perfect for mixing to create new colours – endless options – and they'll wash out!
WHAT DOES YOUR HAIR SAY?
What does your hair say and are you sick of it? If you are, it's probably time to collect your own hair-spiration and find out exactly what you want your hair to say about you. Because from first thing in the morning when I'm sulking around in my pajamas to late night trips to the grocery store for cat litter, I want my hair to scream me.
All images have been found VIA online sources. Unfortunately I never intended on uploading an images including them so I don't have the exact links.