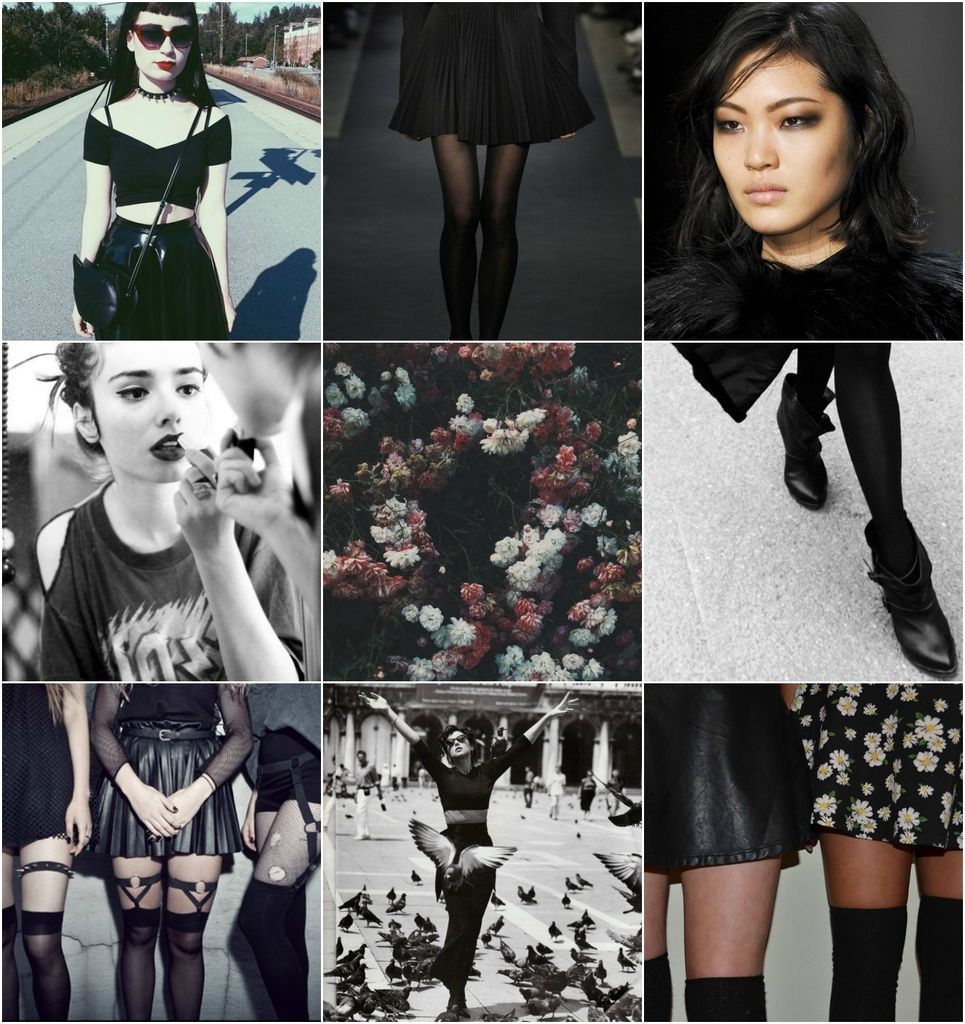 I
feel like it's important to reassess your style every now and then. People are always changing and growing. Your wardrobe should change to match the who you are! Having a wardrobe you feel is personally outdated can do more harm than you think. It would be like you woke up every day and were forced to look through someone else's wardrobe and wear their clothes!
When I saw Amy at She Might Be A Faerie (previously The Ultimate Goth Guide) posting about her style goals I was inspired to take a leap into my own. These posts are great to really get a good idea about what it is you really want – what ever you want!
So without further ado, here are my style goals in all their witchy, dark and romantic glory. What would your style concept look like?
Mini-Mood Board


This part of the style concept takes the most time. You really need to grab a load of photos that you find inspirational and aesthetically pleasing and then par them down into three or four that you feel best represent the style you want to achieve.
The first is a modern rock style. Ripped band tee and winged liner. It's easy to wear and always looks cool.
The picture of the flowers is a permanent fixture on my desktop. I love the hue so much. It's a style I want to add more into my look. It screams romantic but dark, and poetic. Like a nu-romantic oversized button up shirt and winklepickers kind of way! That sounds super silly but, do get what I mean?
The last picture of the slouchy boots makes me think of nu-Goth streamlined, all black looks. I love that it's modern but still speaks of all goth looks.
Style Elements
Slouchy boots, pleated skirts, flared skirts, thigh-highs, band
t-shirt, leather, floral, winged eyeliner, bright lipstick, black, touches of
muted colour and prints, signature sunglasses, oversized blouses, fitted
bottoms, a touch of romance, a touch of rock style, a touch of Victorian and romantic
influences, Victorian boots, "Fit and flare" style, effortless, feminine.
Colour Pallet

The colour pallet for me was hard because, well, I don't wear a lot of colours at all. Typical Goth problem. The white is my neutral. Then there are black, black leather and black floral for my mains and olive, red, navy and black acid-wash as little touches.
Since I was in high school and always accidentally mixed navy and black thigh-highs for school I've had a distaste for navy, but I'm hoping it'll work well!
5 Key Pieces

Thigh-high socks and boots; I bet you didn't see that coming? No, but honestly the biggest key changes are the skirt – it's more romantic than my usual denim shorts, and the quirky sunglasses. I want to add more romance and dark quirkyness into my style, but without loosing the ease of how I dress now!
Wardrobe Categories & Proportions
If you'd like to try out the "style concept" mode of assessing your wardrobe you can check out Into-Mind's Anatomy of a Seasonal Style Concept directly or check out Amy's take on it here. If you do, I'd love to see your own version! It's pretty interesting comparing a bloggers style concept and aspirations to how they present themselves on their blogs. What do you think?