Grazing – Blood Drips – Stippling – Blood Splatter
T
his year I've become super excited about painting my nails in true Halloween style. After my
last sparkly tutorial
I wanted to create something gorier like realistic looking bloody nails. I wanted them to look like they could have torn someone's throat out!
If you like the sound of that keep reading for some of the realistic tips I've come across. Starting with blood grazes, briefly delving into blood drips and then onto full-on blood splatter. All you need are a dark red nail polish, toothpicks and a straw.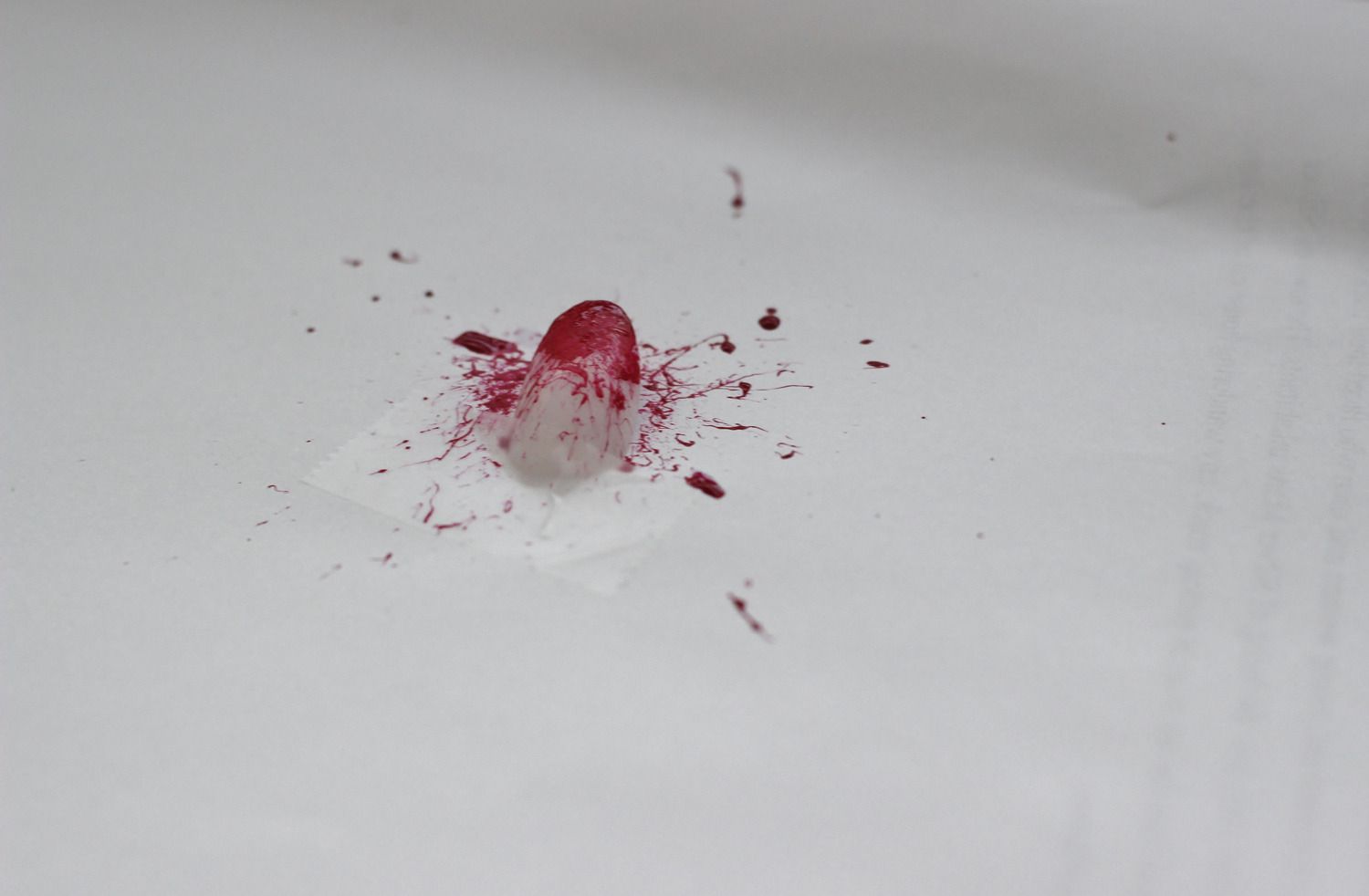 Blood Splatter Using a Straw
This one takes some practice to get started and some set-up. I use a pallet to spread the nail polish on first but a piece of paper will work fine. You need a pool to dip your straw into (using your brush just won't work – I've tried it) and a piece of paper to position your nail on
because the splatter can get pretty intense.
Bonus, I stuck my nail down using scotch
tape as I found the nail would blow away with the strength of my breath. This won't be a problem if you're doing this on your actual fingers. I positioned mine so that the tip was on display and that I was
blowing on an angle so that the blood pooled at the tip and splattered
towards the cuticle.
Now, the actually process is pretty simple. Just remember to a) make sure you get a "bubble" of nail polish completely covering the opening of the straw, else you won't be able to blow it onto the nail and b) use short swift breaths to make sure the nail polish bubble doesn't burst before you start blowing.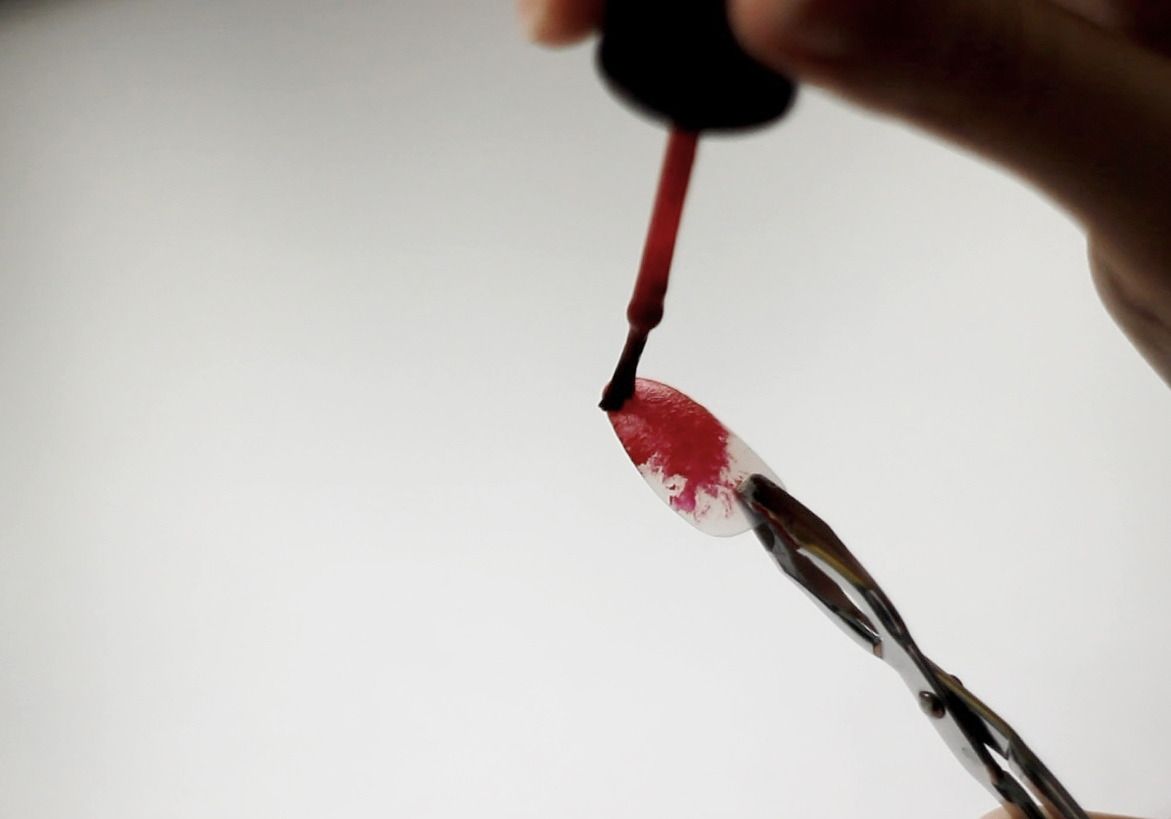 Stippling
Use your brush in a stippling motion (shown above), which means pressing down on the very tips of the brush so that they "fray" outwards slightly. This technique adds texture but also fills in the majority of the nail in order to add pooling blood or splatter over it.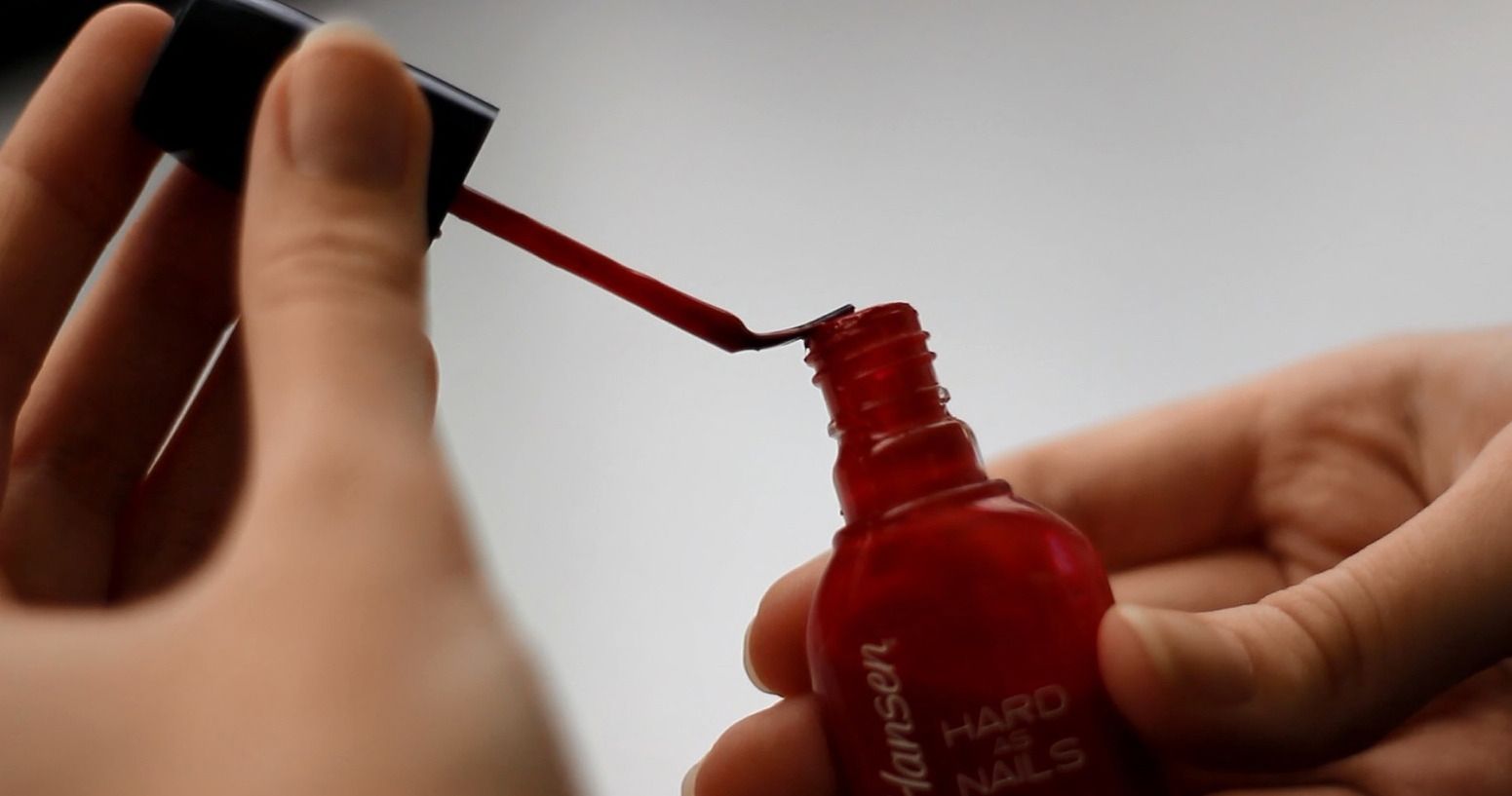 Grazing
Remove most of the colour from the brush in order to get a realistic "grazed" effect. Like the kind of pattern you'd get on your knee if you'd grazed it falling down or if you'd spent hours scratching at the inside of a coffin to escape!
Colour Choice is Key
The red nail polish you choose can make or break the look. The picture at the very top of this post is a great example because as the nail polish thins it get pinker in colour. When choosing your own I'd suggest opting for a darker red with blue undertones rather than a true red.
Bonus tip: for an extra realistic look use a combination of reds. Lighter colours for grazed blood or fresh blood drips, darker for "pooling blood" and closer to black for blood that is supposed to look dried. Combining these colours can add lots of depth.
Cartoon Looks and Blood Drips
You can use a traditional dotting tool to create more comical or cartoony blood looks. Or you can get the same effect with a steady brush or tooth pick. Just dot a clump and then drag that up to meet the edge of your nail where the "blood" is dripping from.


Most of these tips may seem a little strange on their own, but if you mix and layer these up you can create some interesting and realistic bloody nails. Would you try this?