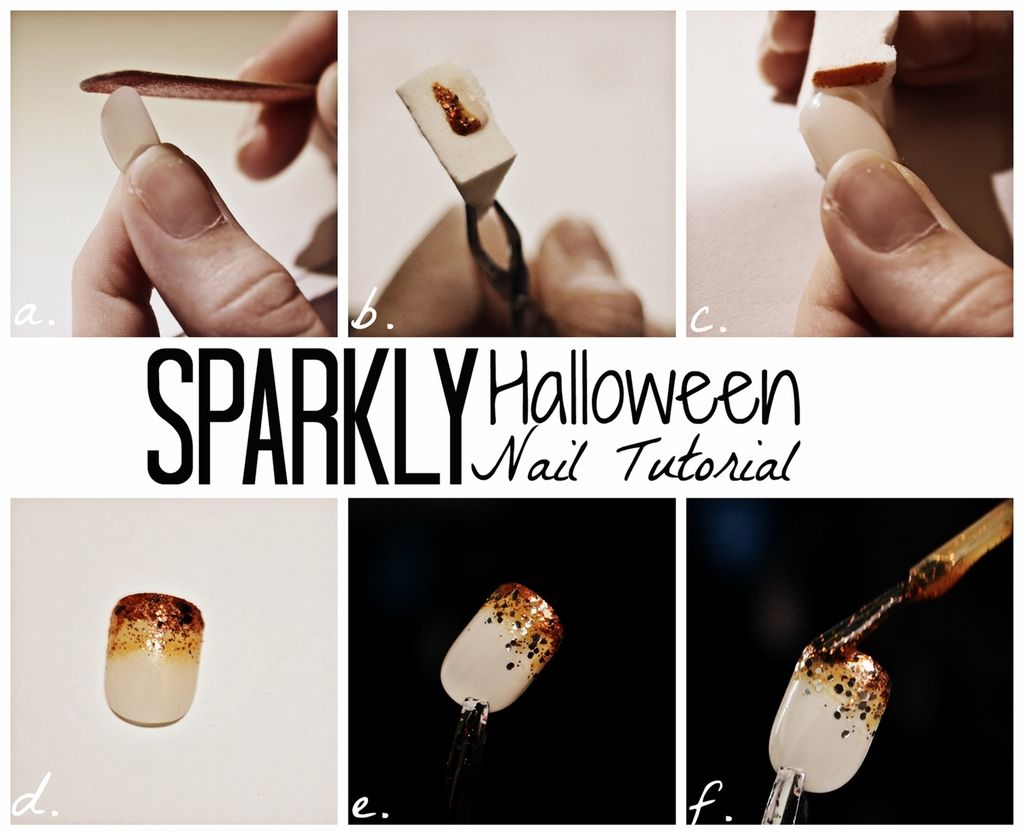 This is a great tutorial if like me you suck at ombre. For the life of me I have ruined many sets of fake nails attempting to find out what I'm doing wrong. But with the handy use of glitter in this tutorial you don't have to be perfect. Glitter can be spooky, right?
Check the bottom of this post for all of the tools and nail polishes I used and let me know what you think! I'm in no way an expert (obviously) and would love some tips and criticism.
a. First cut/trim your nails down to size.
I was using square false nails that I needed to round. I found it easier to finish one nail and use that as a pattern in order for all the nails to be symmetrical.
b. Apply a base coat of a pale pink tone to the entire nail.
The b. picture above doesn't show this. Sorry about that. But it's difficult to show painting a nude nail in a nude colour.

c. While still wet apply an orange or sparkly orange along the tip using a clean makeup sponge.
Start using a small amount and then build the colour up around the tip. If it works for you you can try the typical ombre style shown in the b. picture. You layer the two colours you aim to ombre on a sponge mixing them in the middle slightly and layer that onto the nail.
Unfortunately that has never worked for me. So I prefer to apply the nude first and then while wet apply the orange with the sponge in order for some natural blend to occur.
d. Layer this up to the tip.
Start padding lightly as far down as you want this colour to reach and then focus on layering the orange on the tip. It doesn't have to be a perfect gradient. That's what the glitter is for!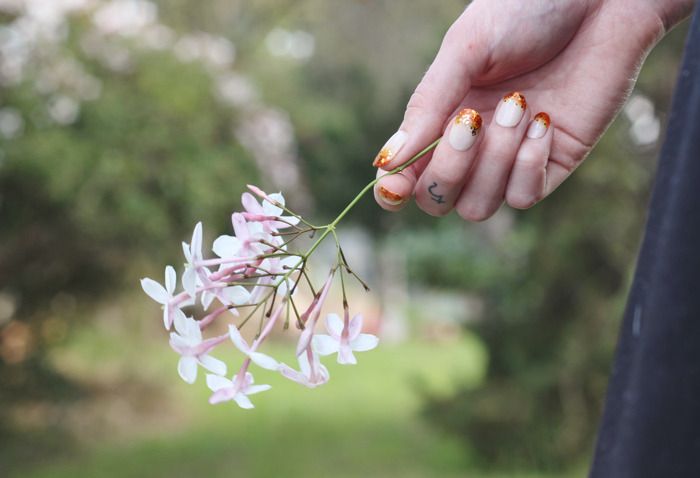 e. Loosely apply a thicker and sparser glitter without covering the entire orange tip.
Focus the glitter around the divide between orange and the nude colour in order to make the gradient less obvious.
f. Take the orange again and apply it around the tip of the nail to build a strong orange gradient at the top that somewhat covers the glitter.
Lastly, cover that all with a clear top coat. I made the mistake of not doing this on a practice nail and because we've built the tip up so liberally it can literally just peal off altogether.
Tools used for this tutorial were a generic nail file, faux nails, a pair of scissor handled tongs (I have no idea what these are called) that I always use for steadily holding nails – you don't need this if you're painting your real nails, generic makeup sponges cut into smaller squares, Pretty Serious Cosmetic's Halloween edition nail polish in Haddonfield, Pretty Serious Cosmetic's Dream Weaver and Obsessive Compulsive Cosmetic's Mein Herr.